Welcome to DePauw University Career Page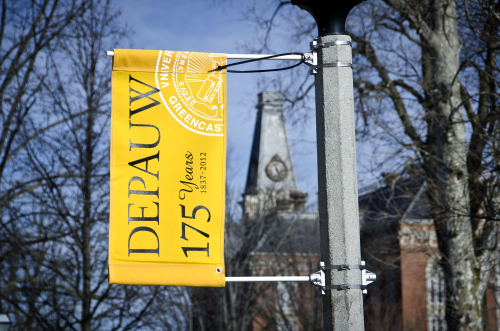 DePauw is a place where faculty and staff actively participate in adding to the 175 year heritage of building and supporting vibrant, intellectual and creative lives for students and for ourselves. Principles of collaboration, respect for each other, diversity, freedom of expression, accountability and service guide the daily decisions and interactions across campus.
DePauw University, in affirmation of its commitment to excellence, endeavors to provide equal opportunity for all individuals in its hiring, promotion, compensation and admission procedures. Institutional decisions regarding hiring, promotion, compensation and admission will be based upon a person's qualifications and/or performance without regard to race, color, creed, religion, national origin, sexual orientation, disability, age, gender, gender identity or gender expression, except where religion, gender, or national origin is a bona fide occupational qualification.
DePauw University's goals and commitments are best served if the institution reflects the diversity of our society; hence, DePauw seeks diversity in all areas and levels of employment and abides by all local, state, and federal regulations concerning equal employment opportunities. The University admits, hires and promotes individuals upon their qualities and merits.
DePauw is committed to assisting all members of the campus community in providing for their own safety and security. The annual security and fire safety compliance document is available on the DePauw website at http://www.depauw.edu/files/resources/public-safety-annual-report-2011-3.pdf Annual Report 2011De.
If you would like to receive the combined Annual Security and Fire Safety Report which contains this information, you can stop by the Public Safety Office in room 200 of the Memorial Student Union Building, 408 S. Locust Street, Greencastle IN 46135 or you can request that a copy be mailed by calling (765) 658-4261. You may also request a copy by emailing us at police@depauw.edu.
The report contains information regarding campus security adn personal safety including topics such as: crime prevention, fire safety, university law enforcement authority, crime reporting policies, disciplinary procedures and other matters of importance related to security and safety on campus. They also contain information about crime statistics for the three previous calendar years concerning reported crimes that occurred on campus, in certain off-campus buildings or property owned or controlled by DePauw, and on public property within, or immediately adjacent to and accessible from campus.
This information is required by law and is provided by the DePauw Public Safety Office.
Please click on the menu above to Search For a Job